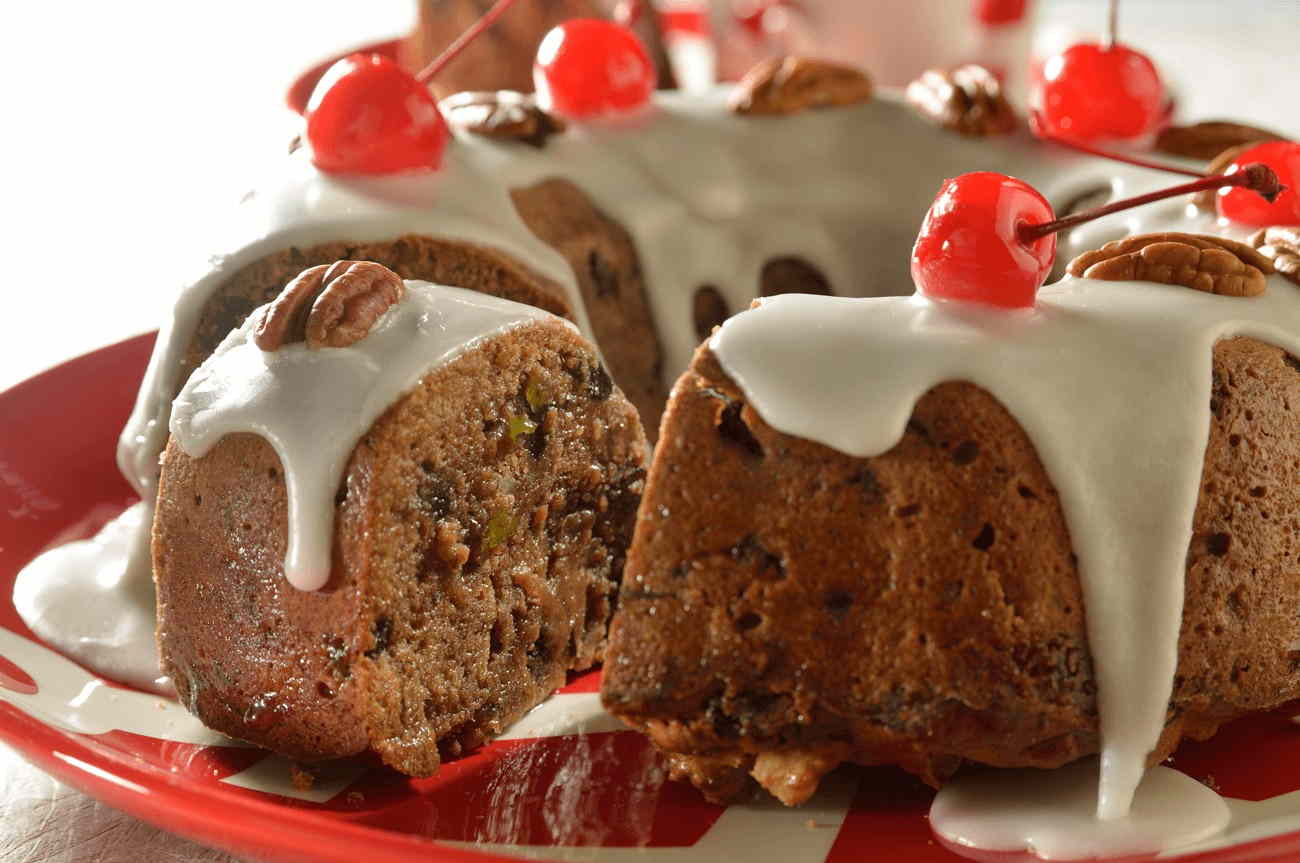 Enjoy this delicious cake with a variety of seasonal fruits. Figs are rich in B complex vitamins, as well as minerals like potassium, calcium, magnesium and iron. They're easy to digest and have a soothing effect on the bronchial tubes and digestive tract. They're an excellent choice for the holidays.
Ingredients
⅔ cup Nutrioli®
3 eggs
5 oz. brown sugar
2 TBSP cocoa powder
3½ cups flour
¼ TBSP baking powder
1 TBSP cinnamon
1 tsp ground ginger
½ TBSP nutmeg
1¼ TBSP ground cloves
¼ cup maple syrup
¼ lb. figs
¼ lb. candied citron
¼ lb. pitted dates
½ lb. raisins
1 candied orange or zest of 1 orange
1 candied lemon or zest of 1 lemon
5 oz. walnuts
3½ oz. candied pineapple
¼ cup sweet sherry
¼ cup brandy or cognac
½ cup halved walnuts for decoration
½ cup maraschino cherries for decoration
For icing:
1 cup powdered sugar
Juice of 1 lemon
2 TBSP water
Directions
Dice fruit and let marinate in sherry and brandy for several days to absorb the flavors.
Sift dry ingredients and spices together 3 times and set aside.
Pour Nutrioli® in a bowl and add eggs one by one. Incorporate sifted dry ingredients, alternating with maple syrup, until batter is of an even consistency. Lastly, fold in candied fruit using a wooden spoon.
Pour batter into greased Bundt pan and bake at 350 °F for 40–45 minutes. Once done, remove from oven and let cool. Release from pan and arrange on a tray. Soak with brandy or cognac for several days, to taste.
For icing:
Combine sugar and lemon juice in a bowl and beat with a whisk until sugar is completely moistened. If it is too thick, add water little by little. Cover with plastic wrap until time to use.
To glaze, pour icing on top of cake and let run down the sides. Garnish with maraschino cherries and halved walnuts.