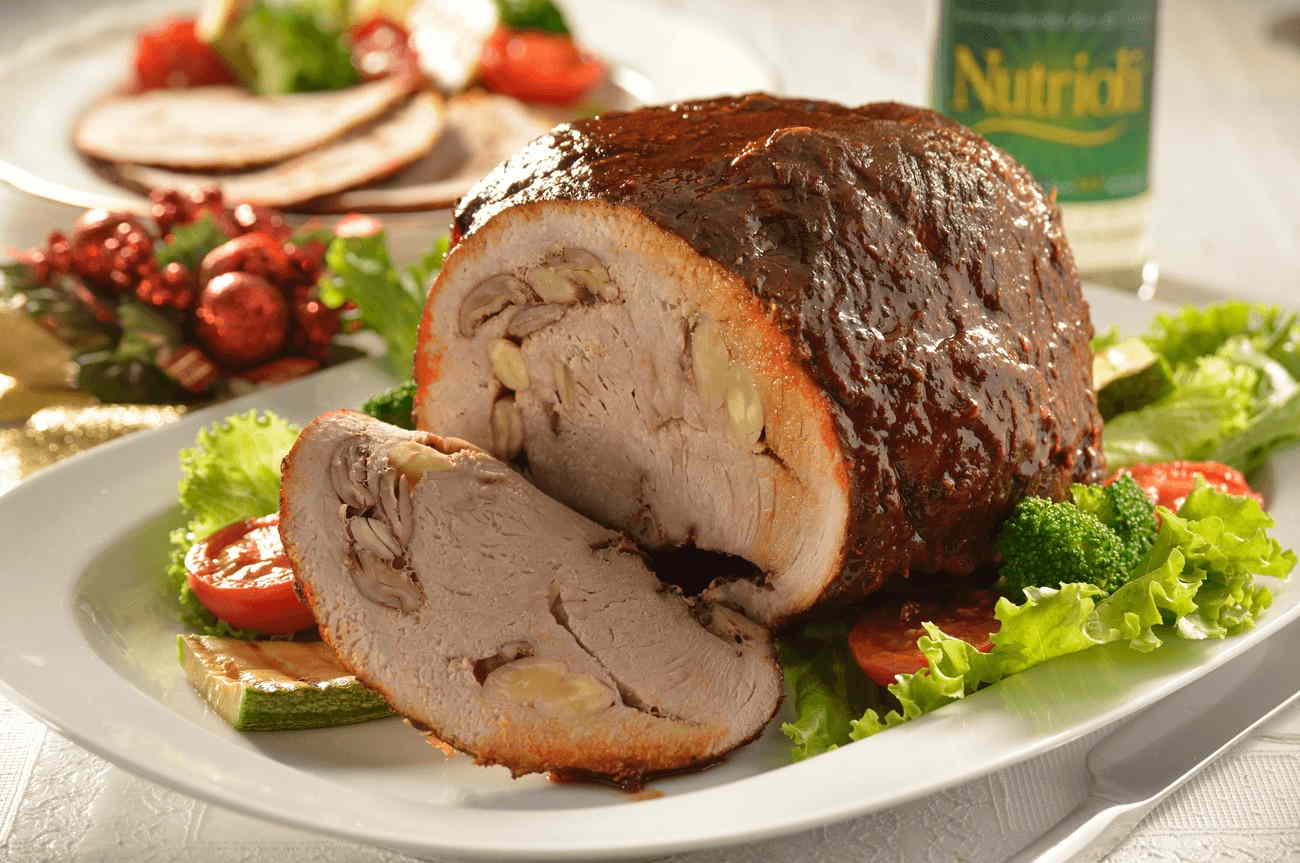 Enjoy this marinated pork shank. Pork contains B complex vitamins, which are essential for healthy nervous system function.
Ingredients
4 ancho chilies
4 guajillo chilies
1 stick of cinnamon
3 cloves garlic
1 large onion
3 TBSP chicken bouillon powder
1 boneless pork shank (13 lbs.)
1 cup walnuts
1 cup almonds (without skins)
1 small handful of cloves
¼ cup vinegar (apple cider or white wine)
3 TBSP Nutrioli®
Salt and pepper to taste
Directions
Rinse shank well with water. Let drain completely or dry with paper towels. Use a long knife to create openings all along the shank. Fill with walnuts and almonds. Season shank all over with salt and pepper. Once ready, use kitchen twine to bind shank, compacting it as much as possible in a single piece.
Heat Nutrioli® in a pot large enough to fit entire shank. Once oil is hot, place shank in the pot and let brown on both sides. Remove from heat and let cool.
Meanwhile, grill chilies (with seeds removed) on a hotplate. Afterwards, boil in water until tender. Puree chilies in blender with a little water, the cinnamon stick, cloves, onion, garlic, vinegar and chicken bouillon powder. Taste and add more vinegar or salt, if necessary, so sauce is highly seasoned, and then strain.
Pour sauce over shank, leaving it well-coated, and let stand for a couple hours. Put shank in a baking dish and cover with aluminum foil. Place in oven preheated to 350 °F. Bake for at least 3 hours, basting shank occasionally with juices and then replacing aluminum foil. Meat will be done when juice runs clear after shank is poked with a fork or knife.
Remove from oven, slice and serve immediately.